Security Shutters, Gates & Garage Doors
Morgan Security supply and fit a wide range of different types of security shutters, window bars and grilles.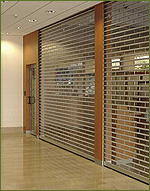 Residential – concealed continental style shutters greatly increase the physical security of your home in an unobtrusive way
Retail – A huge range of products are available from roller shutters to roller curtains; thermal shutters to collapsible gates. We can provide information and advice on all options.
Commercial – Automated security shutters as a physical barrier to protect your business
Garages – For heightened security, and convenience nothing beats an automated garage door. We supply and install from new and can assist in the maintenance and repair of existing installations.
Operating systems for your chosen garage door or roller shutter:

Electric
Photocell
Induction
loop
Movement
sensor
Remote
control
Push
button

Gates – Automated gates act as a physical and psychological deterrent to an intruder. We can supply wooden gates or fabricated metal which may open on a sliding or swing operated opener. This may also be connected to a lock, door entry or access control system.
For more information on any of these products or our other services call us on 01344 868 656