Master Key Suites
A master key system is a good proven method of controlling personnel movement within a property or properties. It is an excellent system to consider as it has many benefits including multiple control methods.Master key systems are a very secure method of controlling access because access rights are required to be submitted before individual keys are reproduced. This method gives full control to the system owner alone.
We fit master key systems to many different buildings including: domestic houses, flats, communal and tenanted buildings, schools, councils, retail & commercial premises.
Is a Master Key Suite right for me?
Probably. We can design an access control Master Key suite to operate many lock types including all cylinders, mortice locks, padlocks and cam locks. Our locksmiths From a single lock on your front door through to a complete installation over multiple sites, we have the experience to design a comprehensive system that gives you the simplicity and security you require.
The design of your suite will take into consideration future expansion requirements to ensure that the system works as well for you in the future as it will today.
How does it work?
The best way to describe the master key system would be to imagine dividing areas of a property into different sections with different security clearance levels. All occupants of the property will have access to key entrance doors whilst other occupants can can have the same access, with additional restricted areas. The owner of the business will be able to access every door within the property. Good preparation and planning at the initial stages of the project is essential to ensure that they system performs well when it is implemented.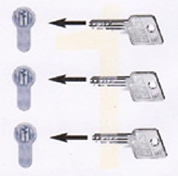 1
KD - Keyed to Differ
Each cylinder is operated by its own individual key.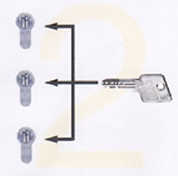 2
KA - Keyed Alike
More than one lock/cylinder can be operated by the same key.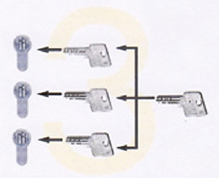 3
MK - Master Keyed
A group of cylinders, normally all to differ and operated by their own individual key. All cylinders can be over-ridden by a Master Key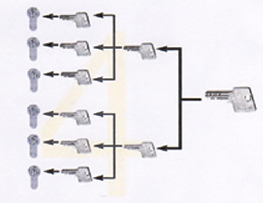 4
GMK - Grand Master Keyed
Used in situations with more than one Master Key group, Master Keys operate cylinders within their own group, whereas the Grand Master Key can operate all the cylinders in all the groups.
Product Selection
Although we currently manage key suites from a number of manufacturers, the suites we are designing at the moment are almost exclusively using Mul-T-Lock products. The Garrison, Interactive and MT5 platforms are the most popular. We will advise you in selecting the correct product to meet your individual requirements in Wokingham and Bracknell.