24 Hour Emergency Locksmiths


Bracknell & Wokingham

Don't hesitate to call us on 01344 868 656

Do you need an emergency locksmith to re-secure or regain access to your home? Or are you looking for a reliable locksmith to fit replacement locks? Look no further than Morgan Security. We are approved company members of both The Master Locksmith Association (the most respected organisation in our industry) and the Trading Standards regulated scheme Buy With Confidence. We also pride ourselves on our reputation and have satisfied customers throughout the Berkshire area, including in Bracknell and Wokingham.
Expert Locksmith
Your 24 hour locksmith comes with over 20 years of professional experience and our service is guaranteed to be prompt, efficient and at a reasonable cost.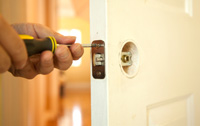 Because our locksmiths are fully trained you can be sure that non-destructive methods are prioritised when gaining entry to your home or premises. It is not uncommon for us to attend premises where a "locksmith" has previously attended in an emergency and left the property requiring more security than when they arrived, due to their untrained attempts to gain entry.
Our locksmiths carry an extensive range of quality locks on their vehicle for those occasions that require replacement security products.
Whatever lock or, access control or security problem you are faced with, Morgan Security have the experience to deal with it quickly and effectively.
Call us on 01344 868656 for a locksmith in Ascot, Wokingham, Bracknell or Reading, Berkshire areas.
24 Hour Locksmith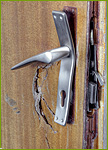 Have you suffered from a break in, lost your keys or had them stolen? Morgan Security's emergency locksmiths are on call 24/7 for just such emergencies. Our 24 hour locksmith will secure your home, repair damage caused by burglars to your doors or windows to make sure you feel safe again. In 2011 we attended to over 92% of our emergency calls within 30 minutes.
If you require an emergency locksmith straight away, please call us on 01344 868 656.