Locksmith Services


Bracknell & Wokingham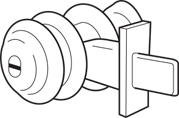 We can work with timber, aluminium and uPVC doors and windows. We conduct free surveys to ensure your home meets current Insurance Company requirements.
Whether you are moving home, have lost your keys or simply require your home security to be improved Morgan Security can help. Please see our section "What you should know before choosing a locksmith" to the right.
For a free quote and survey call us today on 01344 868 656.
Master Suited Locks
Why carry a large bunch of keys where one will suffice. Morgan Security specialise in the build and installation of bespoke master suited systems. Visit our Master Key Suites page today for more detailed information.
Repairs after a break-in
If you have been the victim of a break-in call the police first, then contact us for assistance to re-secure your premises.
Call the police - they should be the first ones to arrive at the crime scene to collect evidence if necessary.
Call your insurance company - they'll be paying the bill.
The key doesn't turn
If the key is simply not turning, there are several possible reasons why:
It's the wrong key
If it's a Yale style lock, the button on the inside may be in the wrong position
If it's a uPVC door, there might be a key inside the lock on the other side of the door.
The lock may have been broken due to misuse, bad luck or steady wear and tear
The lock needs lubrication
The door is binding, thus preventing the key from turning
Our locksmith will be able to solve any of these lock problems.
Missing, Stolen or Unavailable Keys
Call our 24 hour locksmith with information on how the door was last locked (ie a deadbolt). The locksmith will be able to gain door entry, but may have to pick or drill the locks - if they are drilled open they will likely need to be replaced.
uPVC Doors Locks
As uPVC doors just have one lock, when they break there is no way to secure it and thus can be very disruptive. Common lock problems from uPVC doors include:
The handle is working correctly on one side, but just spins on the other side.
The handle spins on both sides of the door.
Several bolts do not work correctly when you try to lock the door.
Whatever lock or security problem you are faced with, Morgan Security have the experience to deal with it quickly and effectively.
Call us on 01344 86865 for emergency locksmith services in Ascot, Wokingham, Bracknell or Reading, Berkshire areas.